(All mares are AMHA registered only, unless otherwise specified)
Toyland Honey Buff is a 2001 AMHA/AMHR , 31.5" champagne mare. She is refined, with a gorgeous Arabian head, overo breeding, and great bloodlines. She is out of the "Pine Tree's Bonus" lineage of champagnes. We are anxiously awaiting her first foal out of our overo stud.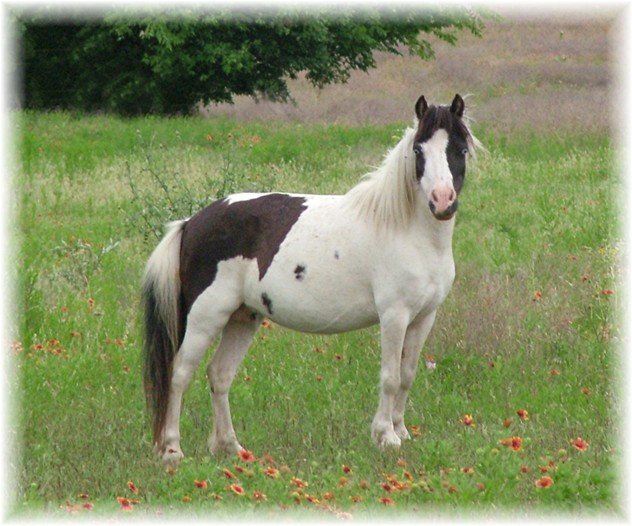 Regel Jesse is a 31.5" 1995 homozygous black and white, blue-eyed tovero mare with Komoko breeding. She is the latest addition to our herd and we are very happy to have acquired her! See her outstanding 2005 homozygous medicine hat colt on the sales page. Her gorgeous 2006 pinto filly will be for sale too.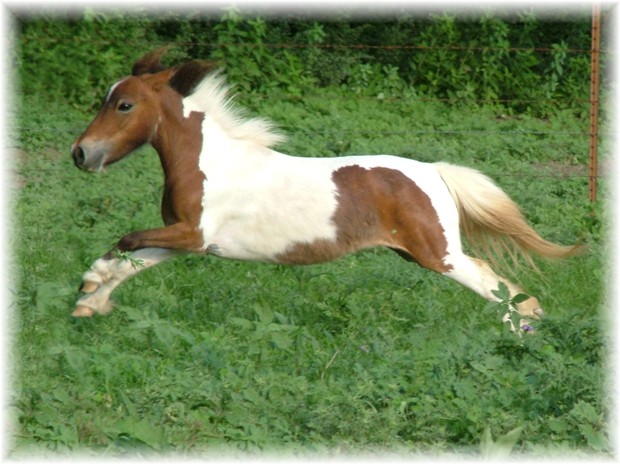 Dundees Sugar Baby is a 31" 1999 bay pinto mare, she's very refined, her bloodlines include Orion, Bond Sir Galahad, Dell Teras, Fisher's Master Mickey and more! Her 2006 foal, a refined, flashy pinto filly with one blue eye, is for sale.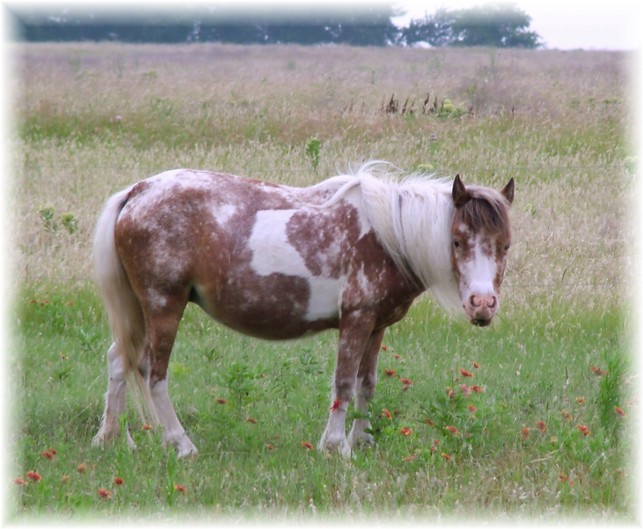 Sunrise Hill Farm Shooting Star is a 32.75" 2001 bay pintaloosa with snowflakes and roaning all over! She goes back to Yellow Diamond Little Feather and has produced very leggy foals so far. See her cute little appy colt on the Sales page.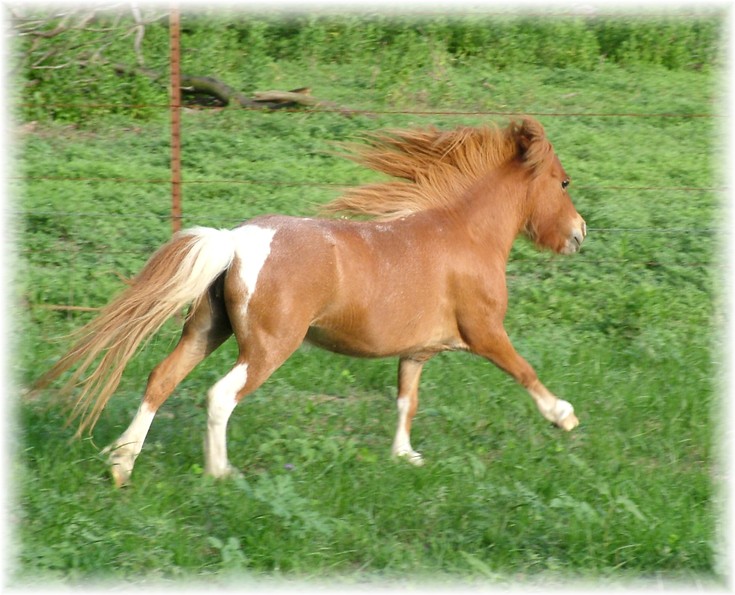 Cozy Corner Foxfires Splash is a 28.5" 1998 chestnut pinto mare. Splash is a very nicely built little mare. Both her sire and grandsire were national champions, she also goes back to Rowdy & Del's Little Man. She is expecting a late 2006 baby out of our overo stud.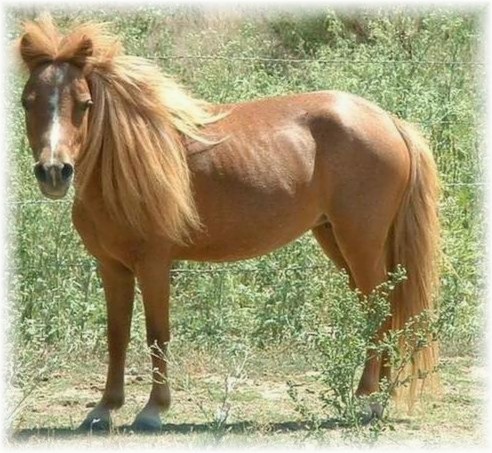 Mini Hoofs Foxy Fanny is a 34" 1996 red roan proven broodmare, she's a daughter of a national champion driving horse. She is an excellent mother & gave us a beautiful black filly this year.
Classy Cocoa Bean is a 27" 2002 chocolate pinto. She is all Komokos bred on the top side and goes back to 007 and Dell Teras on the bottom. She is our smallest and nicest mare! Cocoa Bean is an excellent representation of the true miniature horse. Not many small mares or even big mares look this good! She gave us an adorable silver filly that is just tiny...see her on the sales page.
Stella By Starlight is a 2004 appy/pintaloosa filly and will be bred when old enough. Stella has marbled blue eyes, roaning and snowflakes everywhere, and carries overo, tobiano, and appy genes! This girl is leggy and very refined. She goes back to Chianti and Yellow Diamond Little Feather. Want an appy who will look like her? Check out her little brother on our Sales page.
Prickly Pear's Honeybee is a beautiful, leggy 2005 bay overo filly with full blazed face, two blue eyes, and coronets on her back legs. She is very refined and has extensive overo breeding on both sides.